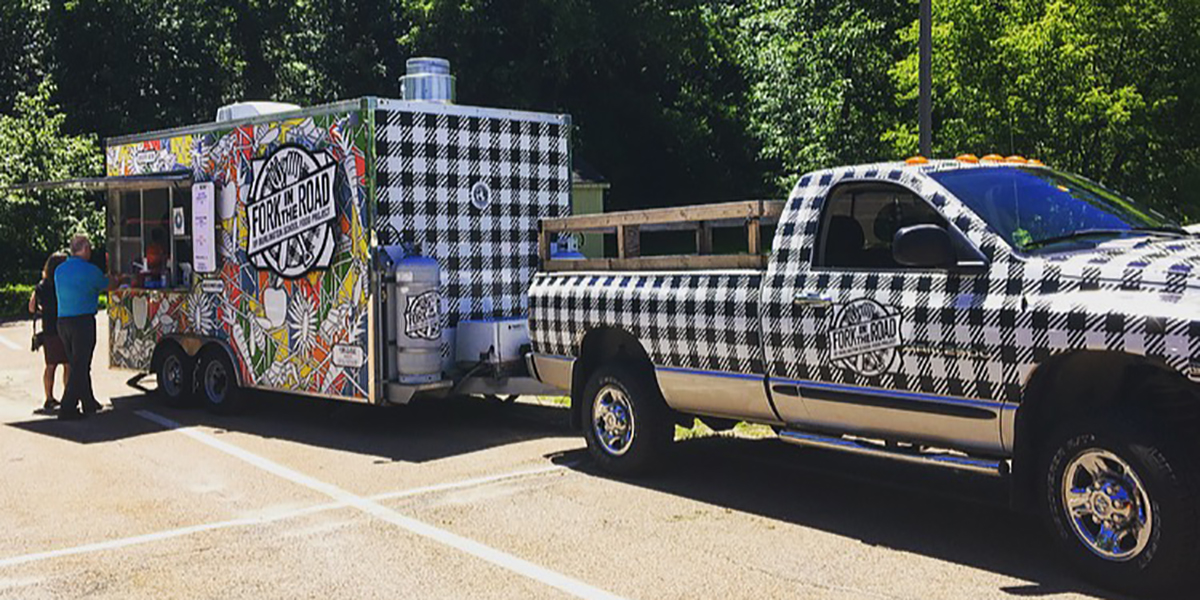 Three weeks ago, the Fork in the Road food truck kicked off it's fourth season, joining the ranks of food vendors who cruise the streets of Burlington, VT, during the summer months. The distinctive checkered pick-up truck and brightly painted trailer frequents many of the usual hotspots downtown and, like many food trucks, serves up delicious locally sourced foods. But Fork in the Road isn't your average food truck—it's staffed by high school students.
Four years ago, the Burlington School Food Project, a combined food service and farm to school program within the Burlington School District, launched Fork in the Road as a student-run food truck and culinary job training program. Since then, the food truck has employed eight or so Burlington High School students each summer—youth must submit a written application and teacher references and be interviewed to earn a spot on the truck.
Student employees earn wages while processing fresh ingredients (from local farms and our own school gardens), preparing complex dishes (everything from samosas to pesto pulled pork sandwiches), working weekly vending and catering events, and maintaining school gardens throughout the district. Youth also attend special team days, which include food safety trainings, resume writing workshops, mock interviews, and visits to local businesses where they learn the ins and outs of the service industry.
Fork in the Road is far more than a typical summer job; at it's heart it's a mentorship program.
For many of our youth, working on the food truck is a time where they not only gain concrete job experience, but valuable life skills and confidence in themselves, all while learning more about their community. Our aim is not only to provide students with something to do during the summer, but to give them the skills, confidence, and ability to find jobs in our community, to pursue higher education if they so choose, and to transition out of high school and into their adult lives.
And while the food truck may wrap up it's season come the start of the school year, our Fork in the Road alumni often continue to participate in Burlington School Food Project organized activities, such as our Food Fighters afterschool program (this past year we spent many of our weekly meetings preparing meals at our local food shelf) or our Jr. Iron Chef team.
To find out even more about our programming and vending events, check out the Burlington School Food Project's website or our Fork in the Road Facebook page. We'd love to see you if you happen to be passing through Burlington, VT, this summer!